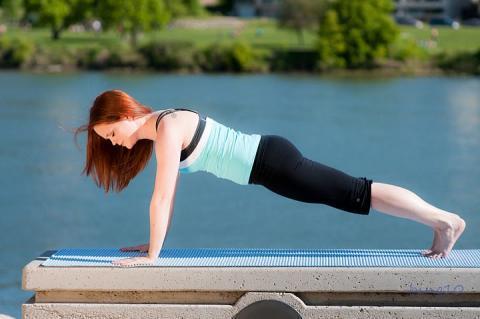 New Directions Pilates located in Saskatoon SK is now offering Pilates mat-work lessons by a STOTT trained and certified instructor.  Group classes are available, schedules vary.
Private lessons are also offered for one-on-one instruction.  Please email [email protected] for further scheduling information.  Currently serving Saskatoon and area.  All equipment is provided for one-on-one private lessons, and for group sessions a comfortable mat is all that you need.  Your first private session includes a posture analysis and discussion of your goals, lifestyle, and any pre-existing injuries so that we can formulate a plan that works for you.  Cost $55.  Further lessons are $35.
STOTT Pilates is based on Joseph Pilates techniques, mixed with modern exercise science and physiology.  It is a mind-body exercise that can be tailored to any goal or fitness level, and modified to assist in recovery after injury.  STOTT Pilates exercises are meant to help restore the natural curves existing in your spine and re-balance the muscles around the joints, with additional emphasis on stabilizing the shoulder blades.
What Can Pilates Do For You?
Relaxation
Improved breathing patterns
Increased Mind-Body awareness
Improvement and correction of posture, decreasing back pain and other problems caused by poor posture
Increased muscle strength and tone
Rehabilitation after surgery
Increased abdominal strength
A workout that is easy on your joints as you work in correct alignment within your natural range of motion
Overall, you can expect an increase in your strength levels, your balance and mobility, a better body awareness, and a decrease in pre-existing body pains, especially in the lower back.